Splash into Summer Giveaway Post is here.
But Julie Moffett is HERE! Woohoo! Let's get started. And welcome Julie to the party.

For the Splash into Summer Giveaway entries, you can enter in this post as well, if you'd rather save a step.
First though, I would like to preface this by saying I initially offered to the Carina Press Authors an opportunity to be interviewed on this site a while back. A fair number accepted and I've been getting to know them on an individual basis.
After corresponding with Ms. Moffett via email and going through this interview, I know she's a person I would be lucky to count a friend. She has my humor but expresses it with more eloquency than I could manage. She's funny and honest and you KNOW I love those traits. You can't go wrong reading Moffett! (Your new slogan, Julie!)
Julie Moffett
Genre(s):
Mystery, Comedy, Romantic Adventure, Action/Adventure
Titles:
NO ONE LIVES TWICE (Carina Press/August 2010)
NO ONE TO TRUST (Carina Press/June 2011)
Website:
http://www.juliemoffett.com/
Blog:
http://authorjmoffett.wordpress.com/
Also visit Julie at:
http://notyourusualsuspects.blogspot.com/
Twitter:
@JMoffettAuthor
Facebook
State:
Virginia
Favorite book ever read:
Watership Down by Richard Adams. Who couldn't resist an amazing fantasy about rabbits?
Do your characters have a "fate"? Or do they get to choose where their story goes?
I do have character arcs to mark growth and action, but sometimes my characters have a mind of their own. In most cases it is often to hilarious and/or disastrous results.
How do you do your research?
My stories revolve around geeks so it's a good thing that most of my family qualifies in that category. Wacky, technically-absorbed and wonderful!! However, I do quite a bit of research on the other scientific aspects of my stories to make it as accurate as possible while still having fun with it.
Is your "real life" comparable at all to the stories you write?
You mean have I ever had a martini (shaken-not stirred) while dressed in a slit-down-to-there red gown and shooting a poison dart from my wristwatch? Well, no. But I did almost join the CIA out of college as an international affairs/Russian language major.
Which character would you sit down and have a meal with? What would you have? What would they have?
Oh, Lexi and I would have a blast at dinner eating just cookie dough ice cream, and chocolate éclairs. But a dinner with Slash would be eventful to say the least. A good Italian wine, some spicy pasta and all while playing a game of strip poker. Hmmm…
Do you have a spice or flavor that defines you?
Lemon meringue for all the obvious reasons!
Would you rather do a reading of your work to a group of nudists you don't know or read to your friends and family in the nude?
Definitely the nudists. My family has already seen me in the nude at one time or the other, so no interest factor there.
Would you react the same way your character did to the plot?
Sometimes, yes. Sometimes, no. Sometimes they all just surprise the heck out of me.
What is the weirdest place you've been at or thing you were doing where you came up with a book idea?
I'm a shower thinker. Need to figure out a way to get my ideas down while in the shower.
How do you come up with ideas (don't you hate this question?)?
Actually, things, people and events in real life inspire me. So, to know me is to be in danger!! You could be in my next novel. Bwhahahahahaha!!!
You're sitting there and you've hit a writer's wall… what food inspires you?
I have jalapeno smokehouse almonds at my desk. A few of those and my nose is running, my stomach is burning and my mind is leaping off the wall. Hot, hot, hot!
Name the show/music that plays in the background while you write…
Mommy, play with me. Can I have a popsicle? He's in my stuff again. Now he's breathing on me. MOM!!!
Describe your office in three words or less…
What's an office?
One word that defines you.
Bubbly! (Think Colbie Calliet)
Favorite color and why?
Green. Mellow and relaxed.
How did you become a writer?
It started in the second grade when I wrote a love story between Prince Valen and Princess Tina who met, fell in love and got married on Valentine's Day. It was a hit with all the girls in my class. The boys held their noses.
Who is your biggest supporter?
My family, especially my parents and sister.
If you could plug one author beside yourself, who would it be? (Can't be Bonnie R. Paulson, but thanks, just kidding)
OMG!! Have you heard about the amazing author Bonnie R. Paulson? She's a superstar!! No, really. Bonnie is a wonderful author and a gracious host. I bow to you, O Worthy One. Thank you for having me.
HAHAHA I'm not which makes your sweet comment all the more thoughtful!
Is there anything off-the-wall you think no one should know? Come on, now you have to tell!
Okay, I listen to Michael Jackson when I'm on the treadmill. And other disco music. Gets my buns moving. You can stop laughing now.
My favorite is Don't Stop 'Til You Get Enough.
List three things you want to do or accomplish in the next three years.
Sell more books, figure out how to use Twitter properly, and help land my sister's book on the NYT best-seller list.
(Can you tell me who your sister is?)
What has been the toughest part of your writing journey? Would you change anything about it?
I've loved every minute of it despite the ups and down. What could be more manic than the life of a writer?
If you could tell yourself something five years ago, what would it be?
Always believe in yourself and treasure those closest to you.
Can you tell me about "The Call"?
Wow, that would be way back in 1992. I sent in my first manuscript (a historical romance) to Alicia Condon at Leisure Books. She called me back within two weeks with an offer. I was so surprised at the quick turnaround, I thought it was a joke. Thankfully, it was not.
Ask yourself one question that you wish people would ask but no one ever does?
Are those boobs real? (Answer, yes!)
OMW! I wish I'd asked that! Great Question - it may get added to my list of questions. hahaha.
Game of Would You Rather…
… be rich and famous and sell mediocre books or be average paid and a respected name that reviews acclaim?
Show me the money, baby!
… shake up a can of pop and open it in a group of people or go for a Polar Bear plunge?
Shake that pop!
… eat 10 pounds of raw carrots or half a pound of raw fish?
I'm a sushi virgin, so you know the answer to that.
… hug a stranger or slap a friend?
I'm all about hugs.
… pray in public or not at all?
Go public!
… choose your own ideas for books or have someone assign them to you?
I like to be in control. It's all about me and my ideas!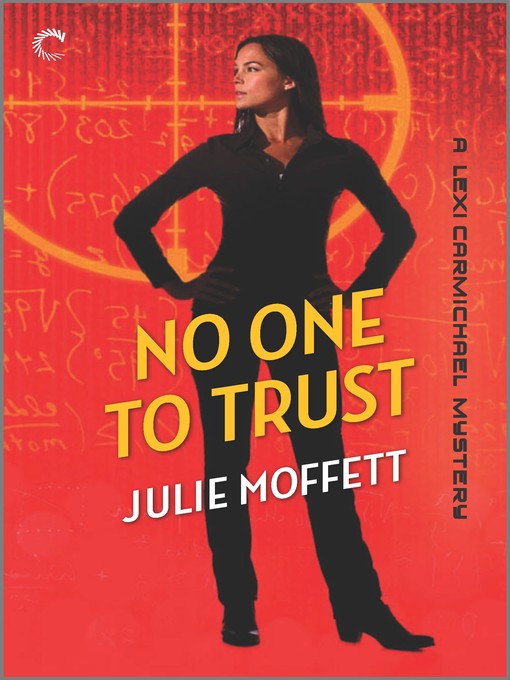 No One To Trust… (preorder now on Carina Press - Just click the title)
SWFG: Single, White, Female, Geek.
That's me, Lexi Carmichael, a reformed hacker who was gainfully employed by the National Security Agency. But a series of extraordinary events led me to leave government life behind for a fresh start with a brand-new company and an incredibly sexy boss, Finn Shaughnessy. It may not be kosher to have the hots for your boss, but he seems to have the hots for me, too. If only things didn't get so complicated...
Darren Greening, a genius researcher from Flow Technologies (our first client!) is missing, and his bosses think I'm involved. And they aren't the only ones—the man who nearly snapped my neck in the parking garage thinks so, too.
Now I'm caught in the middle of a complex and dangerous case. I'll have to use all my geek skills and a little help from my friends to solve the mystery of Darren's disappearance before Neck-Snapping-Man makes a return visit...